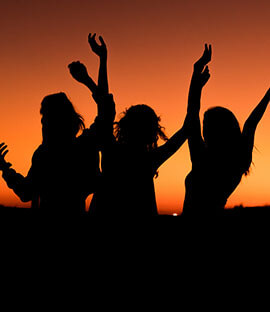 So you're planning a bachelorette party, huh? Well, first of fall, congratulations on your engagement and upcoming wedding! Second, we hope you'll consider Party Bus Cedar Rapids for your Cedar Rapids bachelorette party transportation! At Party Bus Cedar Rapids you'll find a dedicated team of professionals who are committed to providing top quality service, as well as outstanding party buses that are prefect for bachelorette parties, and best of all, great prices!
When you first think of a bachelorette party, the images that come to mind might be pink feather boas, matching outfits, and a wild crazy night out and maybe a pole dancing class. And while for many that is definitely what the bachelorette party involves, especially in Cedar Rapids where there's so many great bars to plan a night out bar hopping or clubbing, it's becoming more and more common to see parties that are a bit more tame! Whether you're planning a traditional wild ladies' night out, a relaxing spa day, an afternoon of volunteering, a wine tour, an art class, or even a co-ed bachelor-bachelorette party, a party bus from Party Bus Cedar Rapids is the way to go! Our buses are spacious, comfortable, and full of amazing party-ready features that are ideal for bachelorette parties in or around Cedar Rapids!
As you've probably seen from browsing our site, our vehicles have unique interiors with colorful lighting, built in cup holders, coolers, dance poles, large TVs, DVD players, loud sound systems, AM/FM stereo, CD player and iPod or MP3 player hookup, and dark windows for privacy. This range of features makes our vehicles versatile; you can easily have a crazy night with pole dancing and cocktails, or a relaxing drive to the spa while you sip champagne! There's no better way to enjoy the VIP treatment, especially for your most important girls' night out!
We operate 24/7 so you can book transportation for whatever time you've planned your party, whether it's a daytime package or a longer evening block of time. Our rates can't be beat either! Often times, the entire party will split the cost, as it results in a very affordable per person amount. But even if one person is footing the bill, keep in mind that our prices are all inclusive and you won't find a better deal anywhere. So what are you waiting for? Call us today to book your bachelorette party bus!